Leominster to Celebrate 30th Johnny Appleseed Festival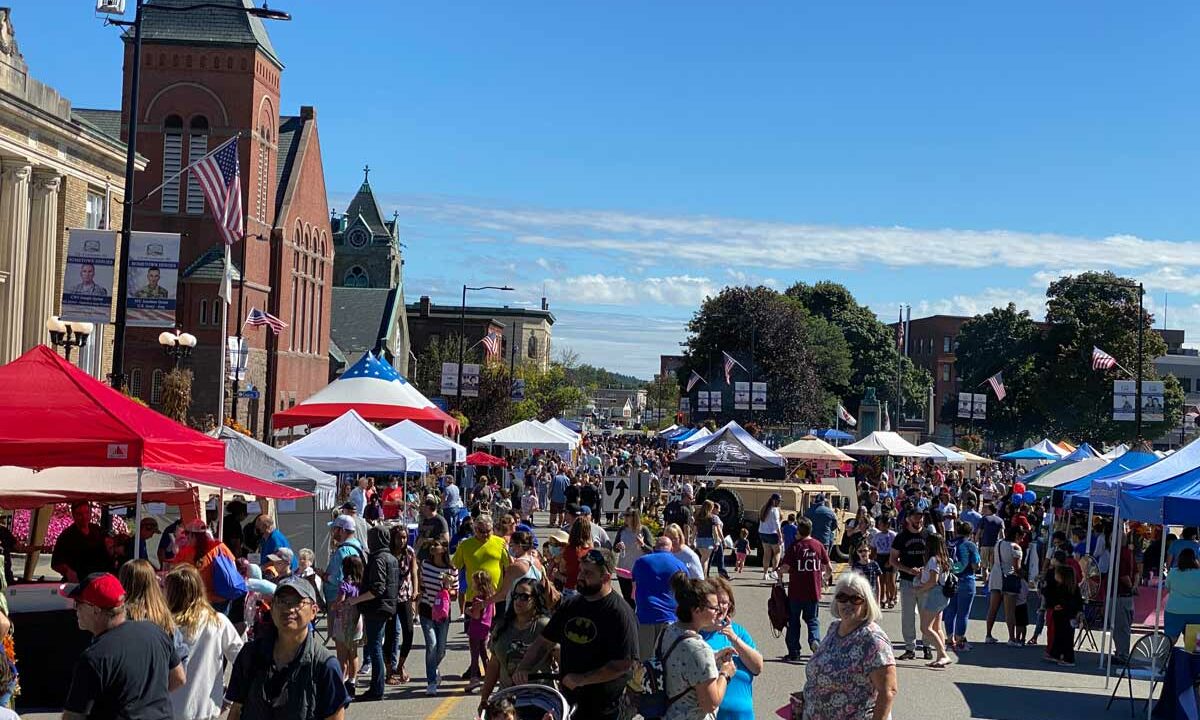 Date:
Saturday Sep 23, 2023
Time:
9:00 am - 5:00 pm
Location:
Downtown Leominster
Address:
Leominster, MA 01453
Get Directions
Come one, come all! This year the celebration is bigger than it's ever been! You are hereby invited to downtown Leominster on Saturday September 23, 2023 to attend the 30th annual Johnny Appleseed Festival! Both Parking and admission are free to see up to 230 vendors that offer everything from crafts, live music, delicious Apple Crisp along with delectable bites, and plenty of fun activities for the kids!
This year's festival is expected to be bigger and more fun than ever before!
We highly recommend getting some of the "World's Best Apple Crisp" with vanilla ice cream from the First Baptist Church – it's everything you dream it would taste like and more. The festival starts at 9AM and runs until 5PM.
What Is the Johnny Appleseed Arts and Cultural Festival?
It all goes back to the birth of John Chapman, the so-called "Johnny Appleseed" who is best known for . He was born September 26, 1774 right here in Leominster, Massachusetts. He's an American pioneer best known for introducing apple trees to Illinois, Indiana, Ohio, Pennsylvania, and Ontario Canada.

Now, for the 30th time, we will celebrate both Johnny Appleseed and the greater Leominster community itself. With the festival as popular as ever, for the third year in a row, the JA Festival will be expanding to include Main Street from Mechanic Street to Merriam Avenue. This area typically includes inflatable bounce houses and slides for children, food trucks, and stages for live music.
This year, with the collaboration of the Rotary Club of Leominster and corporate sponsors, the Johnny Appleseed Festival will provide complimentary meals to 1,000 children and their families. The festival team reaches out to area shelters and agencies that assist those in need, and takes care of them with great dignity in hopes that one day they will give back to others that could use a leg up.
Below Is a Map of the Expected Festival Area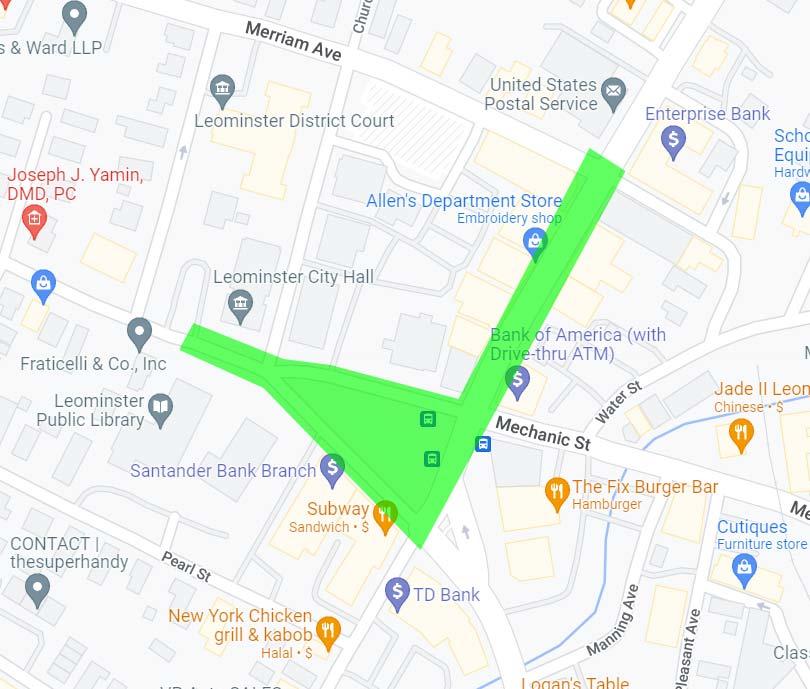 Food Offerings at This Year's Festival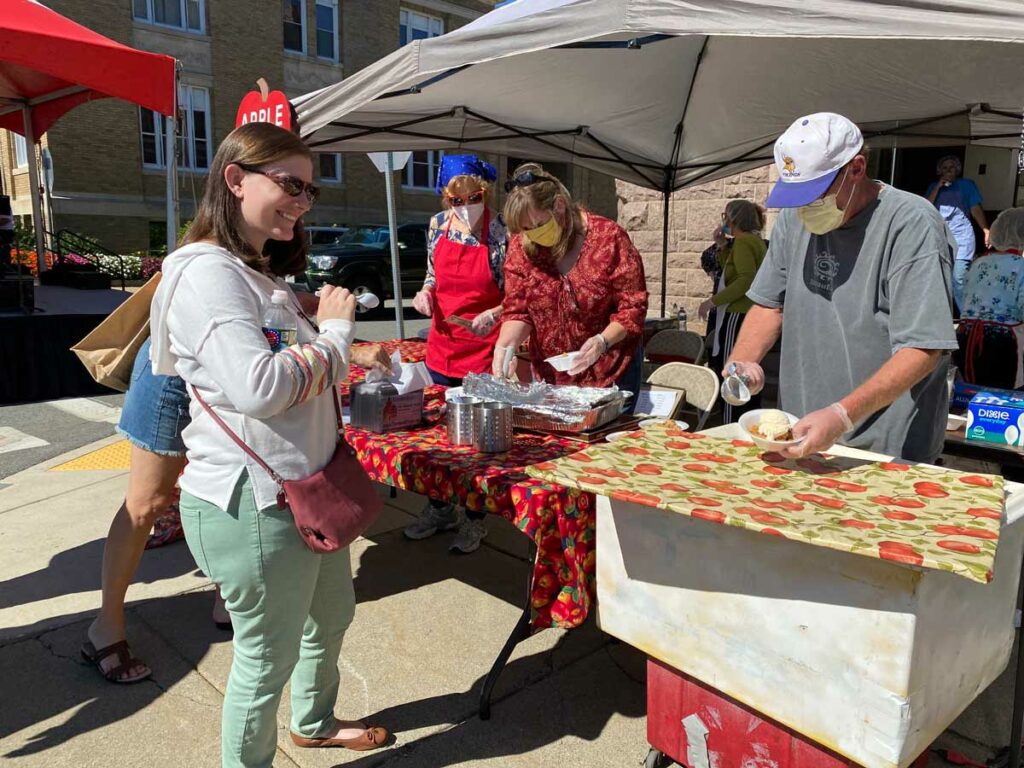 The highlight of the festival is the "World's Best Apple Crisp" with vanilla ice cream from the First Baptist Church. It's been a longstanding tradition and trust us – eating some is a must-do. If Apple Crisp isn't your thing, there are a ton of delicious food vendors announced so far:
This year's vendors haven't been announced yet, but here's what we saw last year:
Aroma Joe's – Fresh coffee – Both hot and iced
Brazilian Baptist Congregation – Brazilian barbecue
Brazilian Catholic Congregation – Brazilian barbecue
Christian Life Center – World's best fried dough
First Baptist Church – World's best apple crisp and vanilla ice cream
Food Trucks – Salads, sandwiches, candy apples, cotton candy, meatballs
Friends of Sholan Farms – Freshly picked apples
Fromagerie Madeline – Best cheeses in America
Fudge & Stuff – Great fudge and popcorn products
Lemonade cart – Freshly squeezed lemonade
Leominster Fire Department – Pulled pork
Leominster High School Chorus – Krispy Kreme donuts by the dozen
Rotary Club of Leominster – Hamburgers, cheeseburgers, sausage, hotdogs, and french fries
Spanish American Center – Spanish cuisine
Sweeties Candy Bus – Assortment of candy treats
Live Music at This Year's Festival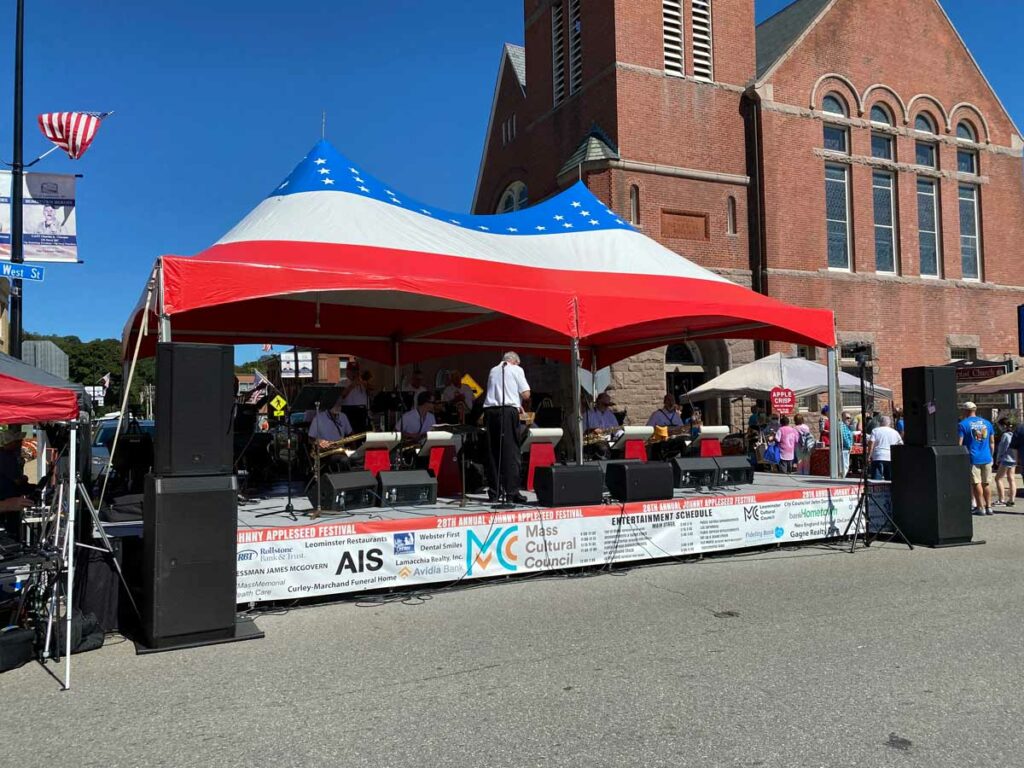 Expect plenty of music this year because there will be two stages with live musical performances from:
Cara Brindisi, who this past season performed on "The VOICE"
Soft rock band
Full orchestra
Veterans Chorus
This year you'll also find a DJ performing with a local school's dance team doing line dancing all day long.
Activities for Kids at This Year's Festival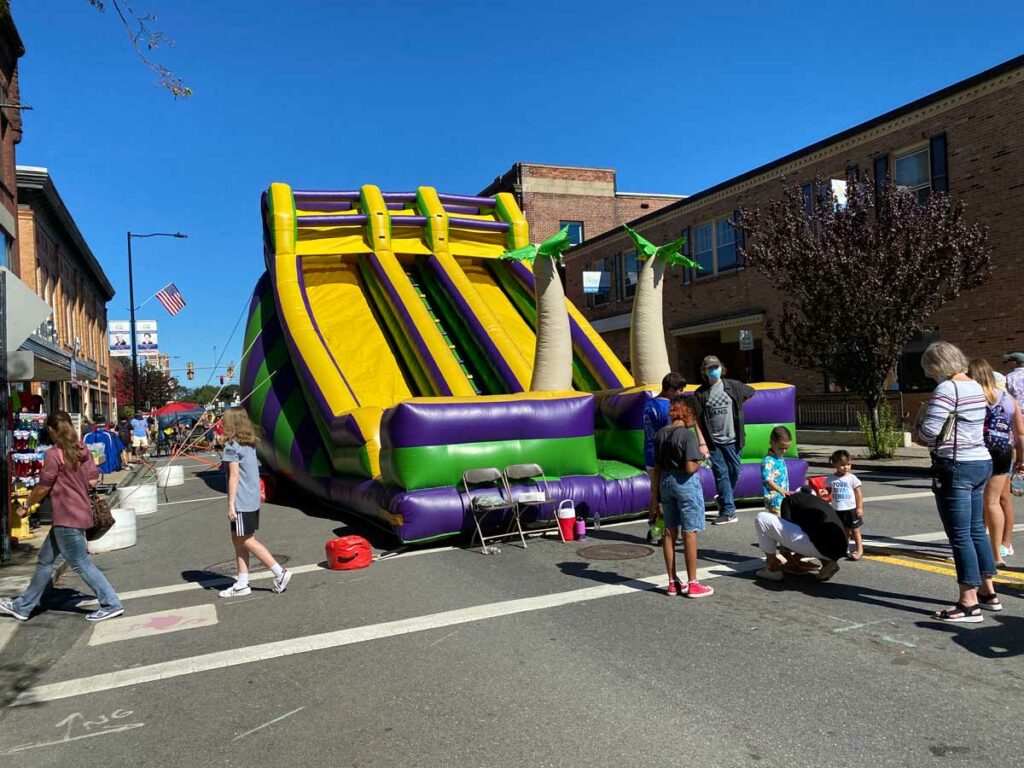 If you have little ones, don't miss everything there is for the children! There will be face painting, bounce houses, inflatable slides, carnival -style dunk tanks, and more! You also won't want to miss the parking lot party for children of all ages. Plus, who doesn't enjoy indulging in a candy apple, cotton candy, or popcorn?!
There truly is fun for the whole family at the Johnny Appleseed Festival.
Vendors at This Year's Festival
While an exact list of vendors are not publicly available yet, in years past we've seen a variety of vendors:
Churches
Charitable organizations
Homemade crafts
Local art
Local businesses
Local candidates
School groups
National Guard
Non-profit organizations
In Summary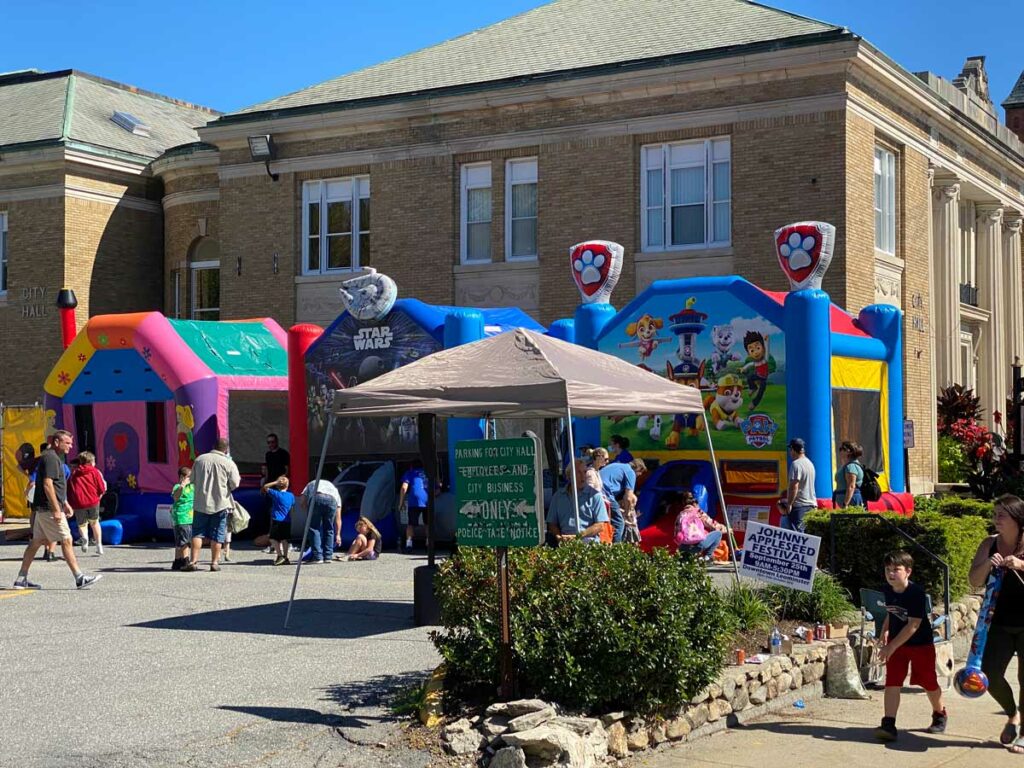 As summer turns to fall, several thousand people are expected to flock to this year's larger-than-ever Johnny Appleseed Festival in downtown Leominster to enjoy food, music, the community in general, and fun for the whole family .If you're interested in attending the festival, remember that both admission and parking are free and that the time and date is September 23th from 9AM to 5PM.
Both the Mayor (Dean Mazzarella) and Johnny Appleseed himself are known to frequent the festival so keep your eyes peeled for both of them! If you decide to attend, we hope you have a great time and enjoy a bite to eat!
To learn more about the Johnny Appleseed Arts and Cultural Festival, visit their Facebook page.